Archive for April, 2011
This has to be the best ad for mobile phones in India by far. It's the Spice Popkorn phone ad which had lots of airtime during the ICC Cricket World Cup 2011.  "Subramanium, Almoonium….". Hilarious
!
I went to Hampi some time ago. The hotel where I was staying used a rather imaginatively named padlock.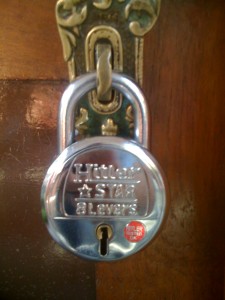 Yeah, you read that right.  It is a "Hitler Star" lock , 8 levers and "Hitler Tested – OK" !  While this is amusing at first, I am not sure how someone Jewish would feel.  Some googling reveals that this morbidly named brand is quite popular with sightings all over India.  It is in fact churned out at "Hitler lock enterprises" in Aligarh, the headquarters of the Indian lock industry.
This also reminded me of the Hari Sadu ad which was incredibly popular on TV a few years ago.



My feeling is that Indian's overall know Hitler as a "bad person", but have now come to associate his name with a mild rebuke which is hardly insulting.  I feel that the majority of Indians are hardly aware of the horrific crimes perpetrated by this deranged man. Instead I've noticed some folks actually try to magnify Hitler's connections with India by propagating his ridiculous Aryan theories and citing the use of the Swastika.  Why ? Here is a Wall Street Journal article I found which does a good job at explaining this curious Indian fascination with Hitler.
After the Indian cricket team won the cricket world cup 2011, there have been, predictably, politicians and businessman outdoing each other in doling out obscene amounts of cash, cars and assorted knick knacks. There has also been, predictably, indignation from the people and media who claim that the cricketers are rich anyway, so why go all crazy with the gifts ? Government distributing taxpayer money to ridiculously rich cricketers particularly rankles them.
I wonder how many people have thought about all the positive economic fallout of India's historic win ? I'm pretty sure that the seminal and final bought record liquor sales to the state exchequer. Surely this figure runs into hundreds of crores of rupees – easily covering the one crore some state governments have promised to players. The world cup victory will no doubt translate into more sales of cricketing merchandise and sporting gear and increased enrollment in summer cricket camps. Increased ad-spend on all TV networks. Not to forget the huge amounts of money that companies and people have spent during the six week long world cup itself.  All, no doubt significant benefits to the economy.
So, to all the people, especially those in the media who constantly bitch about cricketers being over-awarded, shut the fuck up.