Archive for the 'Thoughts' Category
I went to Hampi some time ago. The hotel where I was staying used a rather imaginatively named padlock.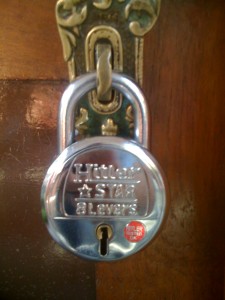 Yeah, you read that right.  It is a "Hitler Star" lock , 8 levers and "Hitler Tested – OK" !  While this is amusing at first, I am not sure how someone Jewish would feel.  Some googling reveals that this morbidly named brand is quite popular with sightings all over India.  It is in fact churned out at "Hitler lock enterprises" in Aligarh, the headquarters of the Indian lock industry.
This also reminded me of the Hari Sadu ad which was incredibly popular on TV a few years ago.



My feeling is that Indian's overall know Hitler as a "bad person", but have now come to associate his name with a mild rebuke which is hardly insulting.  I feel that the majority of Indians are hardly aware of the horrific crimes perpetrated by this deranged man. Instead I've noticed some folks actually try to magnify Hitler's connections with India by propagating his ridiculous Aryan theories and citing the use of the Swastika.  Why ? Here is a Wall Street Journal article I found which does a good job at explaining this curious Indian fascination with Hitler.
After the Indian cricket team won the cricket world cup 2011, there have been, predictably, politicians and businessman outdoing each other in doling out obscene amounts of cash, cars and assorted knick knacks. There has also been, predictably, indignation from the people and media who claim that the cricketers are rich anyway, so why go all crazy with the gifts ? Government distributing taxpayer money to ridiculously rich cricketers particularly rankles them.
I wonder how many people have thought about all the positive economic fallout of India's historic win ? I'm pretty sure that the seminal and final bought record liquor sales to the state exchequer. Surely this figure runs into hundreds of crores of rupees – easily covering the one crore some state governments have promised to players. The world cup victory will no doubt translate into more sales of cricketing merchandise and sporting gear and increased enrollment in summer cricket camps. Increased ad-spend on all TV networks. Not to forget the huge amounts of money that companies and people have spent during the six week long world cup itself.  All, no doubt significant benefits to the economy.
So, to all the people, especially those in the media who constantly bitch about cricketers being over-awarded, shut the fuck up.
It has been exactly two months since I joined a gym.  Since I paid a considerable amount of money, I was motivated enough to go "regularly". Other than about a weeks break when I was traveling, I was in the gym pretty often.  So, when I looked at my workout card today, I was surprised to see how many days I actually went.  I always thought that my attendance would be around 75%.   In reality it was 50% !  Damn. So over a period of two months, I was in the gym for just a month.  All those I'm-going-to-skip-today, Sundays and sick days – they weren't too many, but they added up to be quite a bit.  Anyhow,  this shows how deceptive our perception of commitment to a task can be.  In general it also shows how people being lazy is a good thing for a gym. I always wondered how the gym kept signing up new folks regularly but the place never seemed to get crowded. I suppose the overall attendance averages out to somewhere between 25 to 30%.  So it is in the best business interests of the gym for people to be lazy. (Of course, after they sign up). Freakonomics anyone ? In terms of weight loss, I just lost a couple of kilos over two months. I am reasonably happy with this and I credit this to the fact that I watched what I ate.  This whole working out thing is something that keeps you fit and healthy. It really doesn't help you to lose weight, at best it keeps you from adding more. You have to eat less. Period. Don't believe anything what anyone promises in terms of weight loss, losing weight is hard work and it takes time.
A beautiful quote:
There is no path to peace. Peace is the path.
- Mahatma Gandhi, "Non-Violence in Peace and War"
There's a lot of buzz about cloud computing these days.  The basic idea is to not install any software or application – but instead pay someone else who installs and runs it for you using their hardware – while you use it over the internet (aka "the cloud").
While I am not fully informed on the subject – which anyway will not stop me from proclaiming that my vote goes to the cloud computing idea. I think its an idea whos time has come.   Why ? Because deploying and maintaining enterprise software is difficult, complex, overwhelming, yup, here's the term I was looking for – its fucking painful.  It reminds me of the acronym – FMGWACS – Fuck Me Gently With A Chain Saw. Yes, ladies and gentlemen, that's what IT folks says when deploying enterprise software.  Order freakingly expensive hardware, invest in a rainbow of licenses, coordinate with a billion folks for a myriad variety of tasks – network teams for loadbalancing, OS teams for deploying, SAN teams for storage, cluster configuration teams and <insert-your-favourite> team. Its crazy, expensive and a time-destroyer.
I'm sure that companies will pay good money to get this monkey off their backs.  That's why I'm betting the cloud model will kick ass someday.