I was trying to install MediaWiki on this site yesterday. Site hosting is provided by the good folks at DreamHost and I saw that they had MediaWiki available as a "one-click install". I chose the custom installation option so that I could use the database of my choice as well as install it to a specified directory. All seemed to go well in the initial stages and I got to the configuration part.  However, after entering all the values and clicking Install, something seemed to be happen in the background, but after a while the same configuration screen showed up with all fields set to blank. I checked the database and did see that MediaWiki tables were being created, so something else seemed to be the issue.  I then viewed the INSTALL readme file which was included in the installation archive and saw specific instructions that the config directory should be made writable by the web server . So I decided to install MediaWiki manually. I downloaded the installation archive and decompressed it.  This time before I got to the configuration part, I ran the following command:
chmod a+w config
This step was all that was needed to solve the problem and MediaWiki installed successfully.  I suppose this wasn't happening correctly or at the right time in the DreamHost installer script. So if you're facing problems installing MediaWiki on DreamHost – checking whether the config directory is writable can help.
This has to be the best ad for mobile phones in India by far. It's the Spice Popkorn phone ad which had lots of airtime during the ICC Cricket World Cup 2011.  "Subramanium, Almoonium….". Hilarious
!
I went to Hampi some time ago. The hotel where I was staying used a rather imaginatively named padlock.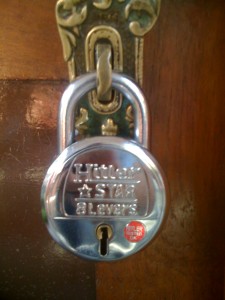 Yeah, you read that right.  It is a "Hitler Star" lock , 8 levers and "Hitler Tested – OK" !  While this is amusing at first, I am not sure how someone Jewish would feel.  Some googling reveals that this morbidly named brand is quite popular with sightings all over India.  It is in fact churned out at "Hitler lock enterprises" in Aligarh, the headquarters of the Indian lock industry.
This also reminded me of the Hari Sadu ad which was incredibly popular on TV a few years ago.



My feeling is that Indian's overall know Hitler as a "bad person", but have now come to associate his name with a mild rebuke which is hardly insulting.  I feel that the majority of Indians are hardly aware of the horrific crimes perpetrated by this deranged man. Instead I've noticed some folks actually try to magnify Hitler's connections with India by propagating his ridiculous Aryan theories and citing the use of the Swastika.  Why ? Here is a Wall Street Journal article I found which does a good job at explaining this curious Indian fascination with Hitler.
After the Indian cricket team won the cricket world cup 2011, there have been, predictably, politicians and businessman outdoing each other in doling out obscene amounts of cash, cars and assorted knick knacks. There has also been, predictably, indignation from the people and media who claim that the cricketers are rich anyway, so why go all crazy with the gifts ? Government distributing taxpayer money to ridiculously rich cricketers particularly rankles them.
I wonder how many people have thought about all the positive economic fallout of India's historic win ? I'm pretty sure that the seminal and final bought record liquor sales to the state exchequer. Surely this figure runs into hundreds of crores of rupees – easily covering the one crore some state governments have promised to players. The world cup victory will no doubt translate into more sales of cricketing merchandise and sporting gear and increased enrollment in summer cricket camps. Increased ad-spend on all TV networks. Not to forget the huge amounts of money that companies and people have spent during the six week long world cup itself.  All, no doubt significant benefits to the economy.
So, to all the people, especially those in the media who constantly bitch about cricketers being over-awarded, shut the fuck up.
Now that India finally gets 3G technology, Indian mobile operators are busy rolling out 3G ads during the cricket world cup.  The worst of all the 3G ads has to be the series from Reliance. Their attempt to convey that 3G allows you to easily multi-task is crap.  Note that their ad series doesn't actually show anyone multi-tasking, instead the characters mouth supposedly funny clever sequences. Doesn't work at all and is fucking annoying.
The Worst:
The best 3G Ad is the Vodafone ad. Although I have mixed feelings about the ZooZoo and I thought the idea was getting stale, however this was fantastically done. The ad has catchy music and links the superman concept to the potential of 3G amazingly well.
The Best:
I was recently watching a documentary on Charles Correa and what struck me, was the way Mr. Correa spoke – he had one of the best English neutral accents I've heard.  The other person I can think of who speaks excellent accent neutral English is Harsha Bhogle.
I'm always worrying whether i've locked the car using the remote electronic key crap.  I've had to walk back many times to the car after parking to check if I've remembered to lock it.  I was thinking why not have an indicator on the key itself which says whether the car is locked or not.  Well I'm pretty sure someone's thought of this earlier, but why don't we have something like that ? I badly need a key like that for in fact anything that needs to be locked. The constant worrying about whether I've locked something is starting to annoy the crap out of me.  How fucking hard can it be, lock and key industry ?
Here's a tip that I got from my dad which has proved to be successful many times. Whenever you shop for something and you're about to pay, ask the seller for a discount. It's surprising that how many sellers are willing to offer one and how many buyers don't bother asking.  I've saved quite a bit over the years just by asking for discounts.  Here are some tips.  Firstly, don't demand a discount, ask for one politely. For instance you can start by asking simply "Is there a discount on this item ? ". If the answer is no,  try again by mentioning a season – "What's the Diwali/New Year discount ?" .  A classic follow up question is to mention that the item in question is available for cheaper elsewhere. Just make up a place and say that you've heard is cheaper there.  Another alternative is to play the emotional angle – "Don't you want me to shop at your place again ? Don't you want me to refer my friends to your place ? ".  Try these approaches and you will be surprised. I've tried it on everything – shoes, clothes, books, spectacles, helmets.  This works on services as well not just products. Don't ever take anyone's quote at face value – persist and you'll save !
You might be thinking – what a cheapskate ! But you know what every seller has a huge margin, so you're getting ripped off anyway.  Getting something off the price just makes it feel a little better. Don't feel bad in asking, after all the seller doesn't feel bad in quoting a price he likes.
Happy bargaining!
I donated to Wikipedia ! I've been wanting to do it for sometime, but somehow kept putting it off.  Wikipedia has been running a fund raiser campaign for a while and it served as a perfect reminder for me to donate.  Wikipedia has become such a major part of our lives that we don't often stop to think about the effort it takes to keep it running.   Right from the hard work of the volunteers that goes in to create and maintain the content to the huge cost the of the IT infrastructure required to run the number five website in the world.  Importantly, Wikipedia is free to use and is kept ad-free !  All this can only happen with support from donors.
This is the e-mail which I received from Sue Gardner, after I made the donation. It does a much better job of explaining on how the donations will be used :
Dear Suhrid,
Thank you for your gift of USD XXX to the Wikimedia Foundation, received on December 11, 2010. I'm very grateful for your support.
Your donation celebrates everything Wikipedia and its sister sites stand for: the power of information to help people live better lives, and the importance of sharing, freedom, learning and discovery. Thank you so much for helping to keep these projects freely available for their more than 400 million monthly readers around the world.
Your money supports technology and people. The Wikimedia Foundation develops and improves the technology behind Wikipedia and nine other projects, and sustains the infrastructure that keeps them up and running. The Foundation has a staff of about fifty, which provides technical, administrative, legal and outreach support for the global community of volunteers who write and edit Wikipedia.
Many people love Wikipedia, but a surprising number don't know it's run by a non-profit. Please help us spread the word by telling a few of your friends.
And again, thank you for supporting free knowledge.
Sincerely Yours,
Sue Gardner
Executive Director
* To donate: http://donate.wikimedia.org
* To visit our Blog: http://blog.wikimedia.org
* To follow us on Twitter: http://twitter.com/wikimedia
* To follow us on Facebook: http://www.facebook.com/wikipedia
This letter can serve as a record for tax purposes. No goods or
services were provided, in whole or in part, for this contribution.
The Wikimedia Foundation, Inc. is a non-profit charitable corporation
with 501(c)(3) tax exempt status in the United States. Our address is 149 New Montgomery, 3rd Floor, San Francisco, CA, 94105. Tax-exempt number: 20-0049703
So, say thanks to Wikipedia and make your donation today !

It has been exactly two months since I joined a gym.  Since I paid a considerable amount of money, I was motivated enough to go "regularly". Other than about a weeks break when I was traveling, I was in the gym pretty often.  So, when I looked at my workout card today, I was surprised to see how many days I actually went.  I always thought that my attendance would be around 75%.   In reality it was 50% !  Damn. So over a period of two months, I was in the gym for just a month.  All those I'm-going-to-skip-today, Sundays and sick days – they weren't too many, but they added up to be quite a bit.  Anyhow,  this shows how deceptive our perception of commitment to a task can be.  In general it also shows how people being lazy is a good thing for a gym. I always wondered how the gym kept signing up new folks regularly but the place never seemed to get crowded. I suppose the overall attendance averages out to somewhere between 25 to 30%.  So it is in the best business interests of the gym for people to be lazy. (Of course, after they sign up). Freakonomics anyone ? In terms of weight loss, I just lost a couple of kilos over two months. I am reasonably happy with this and I credit this to the fact that I watched what I ate.  This whole working out thing is something that keeps you fit and healthy. It really doesn't help you to lose weight, at best it keeps you from adding more. You have to eat less. Period. Don't believe anything what anyone promises in terms of weight loss, losing weight is hard work and it takes time.