I spent some time in the US recently, mostly in the Bay Area. The food scene is incredibly diverse and I had a lot of fun eating out in a bunch of different places.  This is what a months worth of eating out looks like :
Infinite Thai Eatery: The Thai food is a little different from the Thai restaurants in India. I guess they use fish stock in cooking the curry, so I was put off by the smell a little. I remember that the Green Curry was pretty good and the portions are generous.
Fenton's Creamery: Ah, glorious Fenton's. This place has been around for years, is an Oakland legend and is always really busy with queues. They are known for their desserts, especially the sundaes which are crazy in terms of toppings and combinations and are ginormous. Three of us had to fight a long and hard battle to finish a single sundae ! The stand-alone ice-creams are fresh and taste good, but the sundaes are the clinchers really.
Barney's: Again in Oakland. This is a decent burger place. The burger's are pretty innovative in terms of combinations. However, things are on the pricier side.
Baja Taqueira: This was the first Mexican place I tried during my trip. I ate a chicken taco, it was well-made and the portion size was good. The salsa was really good. It's a fairly busy, self-serve place to grab to something quick if you fancy Mexican in Oakland.
Lo Coco's: This is a slightly fancy Italian place. The place is fairly small, so you end up feeling a little cramped. One thing that stood out about the food was that it tasted extremely fresh. We ate a lasagna which was pretty good (awesome tomato sauce!). Also, these guys bake their own in house speciality bread, I forget what it's called, but it's served in chunky loaves with a crunchy exterior. First time I ate bread that was fresh out of the oven and so good! Would go there again just for the bread.
Little Shin Shin: Chinese restaurant. They have a lunch combo which is value for money. Rice, main-order, soup and starter. However, the Chinese food in the US tastes a little different from "Indian Chinese" food. The Indian variety I think deep-fries stuff, but the US version only sticks to stir-fry ? I don't really know, but the Indian variety is much better. Anyway, the food here is strictly average and the decor looks straight from the 90's. The nice thing in this place is they serve complimentary fresh orange wedges for dessert, which is probably the best part of the meal.
Lush Gelato: This is sort of a gourmet gelato place, with the place claiming to make everything from scratch using local ingredients etc. The set of flavours is limited, although some are unique. However, the taste is average and probably not worth the price. Nothing in there that would drag me there again.
Cato's Ale House: This place has a huge selection of beers on tap. When I was there, they had a trivia night going on and the place was really lively. The food however was strictly average and the pricing a little on the higher side for a neighbourhood kind of place. But, great place to hang out and catch a few beers especially if with a large(ish) group.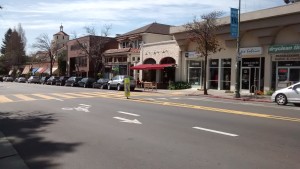 Burma Superstar: This is the best restaurant in Oakland period. I never knew Burmese food was so fucking good. It seems to be this crazy combination of Indian and Thai cusines. All the reviews recommend the Tea Seaf Salad and why not ? This is actually called Lahpet and it's the Burmese national delicacy. The salad is served with all the ingredients laid out separately in a plate. If I remember correctly, they were fermented tea leaves, lettuce, roasted crunchy garlic, roasted peantus, some other crunchy seeds, sesame and something else, tomatoes and lemon. The server then tosses together everything on the spot. The result is a brilliant mix of flavours and textures. The rest of the dishes were very good too, I had something called the Samosa Soup – samosa's in a Thai'ish curry. The restaurant's always busy and seatings a bit cramped, but killer food and the standout tea leaf salad.
Zachary's: Zacharys are known for their Chicago style deep dish pizza. I've always been a fan of the "deeper" style of pizza – the thin crust pizza just seem like a roti with some cheese on top. So I was really looking forward to eating here and Zachary's does not disappoint. The pizzas are really deep – almost like a pie, with tons of fresh tomato sauce and mozzarella. Given this, the pizza is not suprisingly heavy. The two of us ordered the smallest pizza, but still ended up not being able to finish it. (The leftover pizza, tasted really great the next day too). Highly recommend.
Forge Pizzeria: Impressive location in Jack London square in the pier. However, I really didnt like the pizza too much. The pizzas are thin crust style & the veggie pizza we had was quite average. The toppings didnt have any flavour. However, the fried cheese curd starter was something unique and really good. Dessert selection was very ordinary. A mixed kind of place with a great setting by the water.
Angeline's Louisiana Kitchen: This is a US Southern Style of cooking restaurant. I ordered a fried chicken dish with sweet potato mash. However the potato had an overwhelming amount of ginger, I really hate ginger, so while the mash put me off, but the chicken was good. My wife however ordered the veggie gumbo which was awesome.
Jupiter: This is a Berkeley classic and very popular student hangout, since its close to UCB. Anyway, great pizza, great beer – cant go wrong with that combo. Nice open air outdoor seating with heaters for chilly nights, Jupiter is a great place.
Venus: Was here for a Sunday brunch. They had an interesting range of egg based dishes on the menu with varieties of bread to choose from. I think I had an omelette based dish, which was good. Overall, decent brunch place but nothing outstanding.
Comal: This is a slightly upscale Mexican restaurant with some Mexican food that cant really be found in the Taco Bell's et al. I had something called Chile Relleno. Basically a Mexican chilly stuffed with cheese, fried and served in a gravy. Really really good. They had an extensive list of cocktails. Lots of them were Tequila based, but they also had cocktails that were made from Mezcal. I had never heard of Mezcal before, it comes to a difference in what kind of Agave cactus is used in the production – Tequila is a specific kind of Mezcal. Anyway, I tried a Mezcal cocktail, it was really potent and gave me a good buzz and improved my appetite. Anyway Comal is a great place to celebrate occasions.
Great China: Gigantic Chinese restaurant in Berkeley. Standard American chinese fare. They have a good varieties of locally brewed beer – I remembered trying a chocolate ale, which was quite good.
El Burro Picante: A nondescript Mexican fast food place. The system is you go upto the counter and make your own dish by choosing a variety of toppings. All the standard burrito, taco with a variety of meat and veggie options. The portions are generous, the taste is great and prices are great on the wallet. Highly recommended.
Cafe Colucci: This is an Ethiopian restaurant. It has an Italian name, possibly because Ethiopia was an Italian colony for some time, but the restaurant never explains the origins of the name. I had never tried Ethiopian food, but had heard a lot about of it. The menu was large with a billion items on it, however we tried a vegetarian platter kind of thing. The platter comes a variety of gravy dishes, plenty of them were lentil based – couple of them tasted like Indian Daal. The curries are eaten with something called Injera which is like a Ethiopian set dosa. It's fermented so had a strong sour taste which I really didnt like. The spice used in the curries is something called Berber – a strong red chilli based spice mix. This is actually quite spicy. Well sour and spicy, both things that dont agree with me, so my experience with Ethiopian wasnt off to a good start, but I want to have another go, simply because the cuisine is so diverse and there were simply so many other things to try !
Tartine Bakery: This is a bakery that has acquired a reputation for being one of San Francisco's best bakeries. We went there on a Saturday and the line was around the fucking block. Groan. Anyway, stood in the line for a good 20 minutes and got in. We actually went there around brunch time and ordered a bunch of things that are supposed to be good. The Banana Cream Tart, something called the Morning Bun, some Tart and a couple of other things as well. It wasn't really great – I liked the Banana Cream Tart, the others were just average. Really not worth the lines or navigating your way through the crowds for.
Pearl's Burgers: This is a small, hole-in-the-wall kind of place but has acquired a great reputation as a super burger place. Was there on a late night and was really really hungry, so just wanted to go and smash some burgers and fries. The burgers come with different toppings, fillings etc. – I ordered a Chicken burger in Mediterranean style. The burger was enormous and wouldn't fit in a single bite, so the fillings kept falling out. The chicken patty however was bland while the fillings were really spicy. The side order of garlic fries was mind-blowing though. Good place to grab something filling when in down town SFO.
Also had some great food during a road trip to Las Vegas and the Grand Canyon :
Las Vegas: Everything in Vegas is overpriced (at least on the Strip) and caters to the captive tourist audience. We stayed at this place called the Luxor (yeah it's a freaking pyramid with a Sphinx and everything). Anyway, the buffets in Vegas are supposed to be really popular with every hotel trying to outdo one another with extravagant displays of food. I actually really like buffets, so we tried it. The food was pretty good and the variety was ridiculous. I really liked whatever I sampled though, although I probably ended up tasting only a quarter of the dishes. The other restaurants are costly and mediocre.
Stopped at this little diner called Little City Grille in Boulder City, Nevada. This is situated off the highway when driving from Vegas to Hoover Dam. What a find, one of the best breakfasts I've had ever. Ordered a cheese omelette which came with breakfast potatoes, sour cream and toasted sour dough bread. Mindbogglingly good. My wife ordered French toast with maple syrup. Thick slices of toast with crispy edges with gooey Maple syrup. Heavenly stuff, we were so full, that we skipped lunch and were able to power our way through dinner.
While visiting the Grand Canyon, we stayed in a little town called Williams in Arizona. Williams appears to be running on the tourist economy, considering its proximity to the Grand Canyon as well as situated on the Historic Route 66. Williams therefore a large no. of restaurants for a such a small town. The Pine Country Restaurant really stood out. It's an American style diner. I ordered something which was like a chicken schnitzel and was really good. However, this place is really famous for its Pies. Tried something called the Cherry Cream Cheese pie – mouthgasmic !
While on the way to Yosemite, we stopped at this little town called Oakhurst and stopped at this place called the Southgate Brewing Co. for lunch. Lunch was average, but I tried a root beer that was flavoured with Sarsaparilla – really unique taste. I later learned that the computer gaming company – Sierra started out in Oakhurst. I spent hours playing King's Quest as a kid, so was nice to know that I was where it once all started. While on the way back, we stopped at this place called Jantz Bakery, in the small town of Mariposa. Everything looked really good, though I finally settled down on Apple pie. The pie was moist and crunch and the coffee was hot. Great little place !