I took a trip with mum and dad to Gujarat a while ago. Overall, the trip was "fun", although some experiences did come close to marring it. The broad trip itinerary was to travel to Ahmedabad, Vadodara (Baroda) and Kutch. We decided to drive down from Mumbai to Ahmedabad in our SX4. Yeah, it's a good-looking car, despite the cheesy tag-line. "Men Are Back" – who came up with that ? Anyway, the driving route from Ahmedabad to Mumbai involves taking the NH8.  Well the trip's only bad experiences were because of this infernal stretch of tarmac.  Don't get me wrong, there's nothing wrong with the road – no potholes, that kind of stuff.  The problem is traffic. Mind bending, soul-crushing, spirit-dampening traffic. Heavy container trucks, flat-bed trailers and even several CAT 797's.  OK, kidding about the last one. But, you get the drift.  All this heavy traffic is a potent combination for – yeah – you guessed it – traffic jams. We got stuck in a huge one as soon as we got past the Vasai creek and on to the highway. Ultimately, it turned out to be an upturned truck, but the whole mess just was made worse because many drivers decided to drive on the wrong side to jump the queue.  Then, both sides ended up getting miserably deadlocked. Take a look for yourselves:
Extricating ourselves took a painful 3 hours and frayed nerves.  Not a very auspicious start, but a start nevertheless and we were glad to be on our way.   Anyway, we got stuck again – for a short time – just before entering Bharuch while crossing the Narmada.  Oh, and the same routine happened on our way back. Moral of the story folks do not contemplate of driving from Mumbai to Ahmedabad (or even the bus). Take the train, or fly, you'll be a happier person.
Allright, Ahmedabad then.
The Sidi Sayyed Mosque: A  tiny building really – but it has the famous 'Jali' carvings that form the inspiration for the IIM Ahmedabad Logo.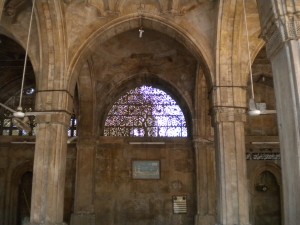 The Jama Masjid: In one word: breathtaking.  The effect on entering the mosque for the first time is quite dramatic, because the entrance is an obscure side gate and the entire mosque is hidden from view because of the busy bazaar that surrounds it. So as soon as you step in,  you'll gasp because there is this freaking HUGE courtyard that is impossible to foresee if you are just ambling out side.  Beautiful Islamic architecture with countless (actually, 260) pillars. Don't miss this one.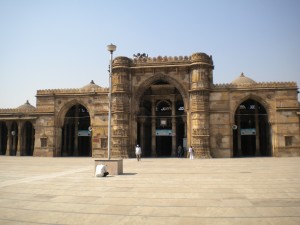 The Gujarati's have an inordinate love for fried stuff.  Although they do have non fried alternatives available (the most famous being the Dhokla) my take is that the whole cuisine is just a heart attack waiting to happen.  Anyhow, I would recommend that you try the "Fafda" – (fried chick pea batter!) which is sold literally everywhere.
Ahmedabad has something unique called the "Jhulta Minara"or the shaking minarets. However, note that you will not be able to see the Jhulta Minara's shake anymore. Folks are prohibited from climbing up the minaret and giving it a shake. Also, one of the minarets has been dismantled  by a pesky Britisher during the Raj – who wanted to see what makes the minarets shake, but couldn't put it back together later. Visit if you have the time or skip.
A popular mandatory stop for tourists to Gujarat is the Akshardham temple located in the administrative capital of Gandhinagar.  So we trudged along as well. I was quite disappointed with the whole experience.  It is extremely crowded which is always a bad start.  Next, I realized that it is  more a theme park than a temple (with fun rides and attractions). This was quite disconcerting because umm a place of worship should not have amusement rides ?  The architecture and interior is also nothing much to speak of. Everything smacks of kitsch and has an overall tacky feeling. My recommendation is to knock this off your itinerary and save yourself some serious time.
An excellent antidote to the jading Askshardham experience is the Adalaj step well, which is located off the Ahmedabad Gandhinagar highway. I had never seen anything like it before. Essentially as the name says it is constructed to function a well, but the structure is so ornate, that it could very well be a subterranean palace. There are various "levels" that one has to descend to get to the level of the water and at each level there are exquisite ornate carvings. Don't miss this place.
The must see attraction is of course Mahatma Gandhi's Sabarmati Ashram. Immaculately maintained it offers a beautiful insight into the life Gandhiji spent while staying at the Ashram as well as his message of non violence.
Next, the Calico Museum of Textiles located in the heart of Ahmedabad. Rated as one of the best textile museums in the world, it is owned by the Sarabhai family.  The museum is housed in a beautiful intricately carved wooden Haveli surrounded by a lush garden which shuts out the heat and dust of Ahmedabad.  Inside, there is a stupendous collection of textiles, fabrics and garment designs all over India.   The artwork and the variety is stunning and will leave you breathless and in awe of Indian craftsmen. Note that the museum is very restrictive in how it allows visitors.  There are only a fixed number of visitors allowed during a narrow time window.  Visitors are accompanied in the museum by a guide who talks one through all the exhibits on display.  Note, one must call to book in advance.  If you don't, you can still stand in line, but will be allowed to get in only if those who had booked earlier don't show up. So, make sure you plan in advance to visit this hidden gem in Ahmedabad. Contact the museum here.
Oh and avoid eating at the "famous" Vishalla. The food is overpriced and underwhelming.
Next on the agenda was to visit Kutch. More precisely the Little Rann of Kutch (LROK).  The direct route to LROK from Ahmedabad is via Viramgam, but we chose to take a longer route via Modhera which is famous for it's Sun Temple.  The temple although vandalized by Islamic invaders still remains quite beautiful. I would recommend that you hire one of the guides at the temple who do a good job of explaining how the sculptures represent events from the Mahabharata and the Ramayana and how the temple is constructed according to Vastu principles. Quite fascinating.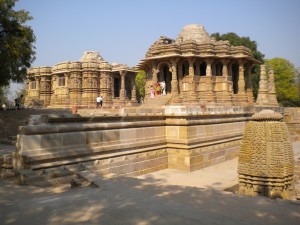 From Modhera, we drove to the LROK.  The attraction of the LROK is a that it is a salty desert and is famous for being home to the Indian Wild Ass (Khur) as well as flamingoes. Luckily we managed to get a glimpse of both the animals. There are a lot of resorts near the small town of Dasada that offer packages to drive you into the LROK, however we drove ourselves and I suggest you do the same and save yourselves some money.  The Gujarat Forest Department checkpost in Dhrangadhra has a checkpost where you have to pay an entry fee, they also arrange for a guide to accompany you. There is also an excellent information display about the LROK. Be warned – the guides are locals who can hardly speak any Hindi, however they are useful in pointing out the spots where the khur and the flamingoes can be found. Beyond that, do not expect any interesting commentary. The empty flat treeless landscape is a  surreal and beautiful. Apparently, the landscape looks even better the moon light. Send me some pictures if you've ever made it there in the moonlight.  Salt making is an important commercial activity and you could easily spot salt pans and even mounds of salt. Interestingly I found that raw salt is in the form of huge crystalline chunks which are as hard as rocks.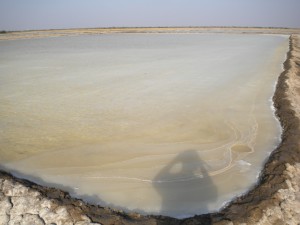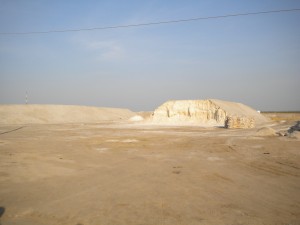 On the journey back to Mumbai we decided to stop at Anand and then at Baroda (Vadodara).  Anand of course is the headquarters and home to Amul (technically the GCMMF) the world largest milk producer (and quite a few other records as well). Amul is a well known and well loved brand in India that has been around for a long time.  Amul's  White Revolution was a phenomenal success which made India the leading milk producer of the world – a fact which has been drilled into Indian schoolkids through textbooks, so I was keen on visiting.  We did manage to find the Amul factory which has a museum, but we couldn't visit the museum for some reason (either it was closed or we had to have some kind of security permission – I forget).  Anyway, to be there in Anand in front of Amul's HQ had a sort of historical importance attached to it and it felt good.
Next destination – Baroda (Vadodara). Now, Baroda being the seat of a royal family has a different sort of feel about it. Definitely much cleaner and greener and a better looking city when compared to Ahmedabad. Our main reason to be in Baroda was to visit the Laxmi Vilas Palace.  An amazing, imposing structure, the palace is full of fine art and architecture. There is an excellent guided tour that is offered as part of the entrace fee. Our guide an amiable old man (who for some reason was in a tearing hurry) did a fine job in explaining the finer points of the palace and taking us through the various rooms.  Watch out for the fantastic Ravi Varma's, the weapons on display as well as various art from Europe and elsewhere that have been collected by the Maharaja. The Ravi Varma paintings also seem to have an illusionary effect where the eyes of the portrait seem to follow you irrespective of your position in the room. This seems to be quite a popular effect in a few other paintings as well, which the museum staff are quite eager to point out.  There is also an adjoining museum that has beautiful paintings and a much bigger collection of European art.  Definitely worth a visit.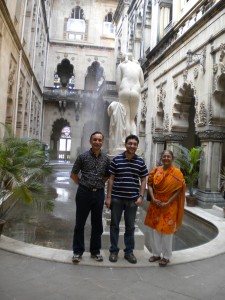 So we trudged along back to Mumbai after getting stuck in countless more traffic jams on the highway. Before I forget, I must mention how helpful the iPhone's GPS and GoogleMaps were in finding our ways both in the rural back roads as well as within the city.  Try out GoogleMaps as  as a free alternative in your phone instead of buying costly proprietary maps. It does make mistakes some times and needs GPRS (reception is extremely widespread – I had GPRS even on the LROK!), but definitely very useful.
Overall trip experience: excellent. Just dont drive thats all 🙂