Architecture Styles
From Suhrid.net Wiki
Jump to navigation
Jump to search
Intro
It is a pattern of component types and their interactions.
Define constraints: how things are allowed to interact.
Architectural pattern is synonym for style.
Architectural patterns package tactics. A pattern that supports availability will use redundancy as a tactic.
Defining features:

Component types: e.g data store, processes etc.
Component layout: e.g. which process is allowed to access data store.
Connectors: e.g how are they connected ? RPC, Data stream ?
Constraints: On components - e.g. data store cant modify itself, On connections - no P2P communication allowed.
Data Centred
Characterised by the access/update of a central data store.
The data store can be passive (e.g. a file) or be active (e.g. blackboard)
Good for integration and extensibility. There is a low coupling - only the data is shared.
E.g. Transactional DB, Blackboard, CASE Tools.
Blackboard
If the current state of the central data is the main trigger for processes to execute, then the repository can be a blackboard.
A common knowledge base, the "blackboard", is iteratively updated by a diverse group of specialist knowledge sources, starting with a problem specification and ending with a solution.
Each knowledge source updates the blackboard with a partial solution when its internal constraints match the blackboard state.
In this way, the specialists work together to solve the problem.
Invocation of a KS is triggered by the state of the blackboard.
Data Flow Architectures
Characterized by viewing the system as a series of transformations on successive pieces of input data.
Orderly motion of data. Explicit pattern of data flow.
No direct interactions b/w components.
Objectives: Modifiability - plug in/out components. Reusability - sequence of components plugged together.
Batch Sequential
Processing steps are independent programs.
Each step runs to completion before next step can start.
Batch of data is transmitted as a whole between components.
Pipe and Filter
Similar to batch sequential, except that the computations (filters) work incrementally on the data.
Data is immediately passed - i.e. it is streamed and not batched.
No state is retained between computations.
Pipes carry data from output of one computation (filter) to another.
e.g. Unix Shell - ls | grep "java" | wc -l
Advantages:

Simple, easy to reuse - a pipe and filter system can be made into another filter.
Support concurrency.

Disadvantages:

Filters operate as a separate process (process overhead). They cannot cooperate.
Lowest common denominator of data has to be used for data stream - e.g. ASCII text.
Virtual Machine Architecture
Main goal is to achieve portability.
A virtual machine is a software style that simulates/provides interface to functionality of underlying hardware/software platform.
biggest e.g JVM.
Running program through an interpreter adds flexibility through the ability to interrupt and query program and introduce changes at runtime. But there is a performance penalty.
Virtual machine structure. The interpreter selects an instruction, updates its internal state and based on instruction potentially updates the program's data.
Call and Return Architecture
Classic programming structure. Decompose program into smaller structures.
Goals of achieving modifiability and scalability.
Many different styles:

Main program and subroutine
RPC
OO Style
Encapsulate data and operations together.
Encapsulation, Polymorphism and Inheritance.
Layered Style
Components are assigned to layers to control component interaction.
Each level communicates with only its immediate neighbours, Layer N can use services of only layer N-1 and delegates subtasks to it.
Goal is to achieve qualities of modifiability and portability.
There can be a relaxed layer - where a layer talks to layers other than immediate neighbours.
Most common e.g. is the OSI protocol stack.
Advantage

Increased levels of abstraction.
Confinement of change - change can max affect to other layers.

Disadvantage:

Difficult to structure systems in layers.
Performance may require closer coupling between higher layers and lower layers.
Independent Component Architectures
Consist of a no of independent comp's which that communicate through messages.
Messages may be passed to named participants, or unnamed participants.
Goal of modifiability by decoupling various portions of computations.
Event Systems
Components announce data they wish to share (publish) with their environment - a set of unnamed components.
Other components may register an interest in the class (subscribe).
Typically a message manager manages communication - providing the decoupling between the publisher and the subscriber.
Communicating Processes
Processes communicate directly.
Single machine - signals.
Multiple machines - RPC. TCP etc.
classic e.g. client server architecture. Server works synchronously or asynchronously (meaning client has his own thread of control).
Heterogeneous Styles
Systems are rarely built from a single style.
Types of heterogeneity:

Locational: Runtime structure reveal patterns of different styles in different areas. Different style for different sub systems. e.g. one of the modules in call and return will have a shared data repository.
Hierarchical: A component is part of one style. When comp is decomposed, it is structured according to a different style. For e.g. a component in a pub-sub system might be layered.
Simultaneous: Any of several styles can be applicable.
Safety and Reliability Patterns
Homogeneous Redundancy
Uses identical channels to increase reliability.
All redundant channels are run in parallel and the output is compared.
If odd no of channels are used, majority-wins policy can be used that can detect and correct failures in the minority channels.
Advantage: reliability without additional development costs - since channels can be cloned.
Disadvantage: Can detect random faults, not errors (which are systematic faults).
Therefore protects against hardware failures.
Monitor Actuator
Special type of redundancy.
Channels are separated into monitoring and actuator channels.
The actuator channel performs the action e.g. starting the motor, lowering the wing flap.
The monitor channel keeps track of what the actuation and monitors the environment to ensure that the results of the actuator are appropriate.
The actuator itself cannot rely on the monitor - they must use separate sensors.
Watchdog
A watchdog is a subsystem that receives messages from other subsystems on a periodic or sequential basis.
If msg arrives too late or out of sequence, watchdog takes corrective action.
Watchdogs usually simple - implemented in hardware. Software also possible.
Primary disadvantage - too simple to support complex error handling and fault recovery.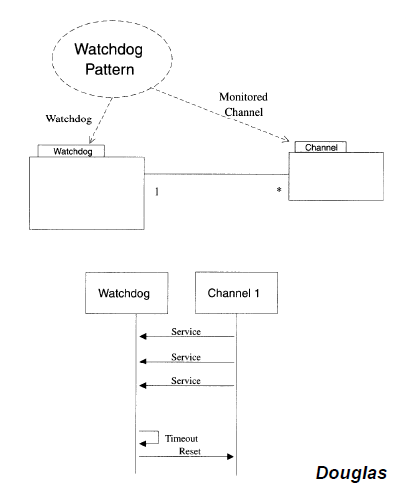 Safety Executive
Uses a centralized coordinator for safety monitoring and control of system from faults.
Advanced watchdog which tracks and coordinates all safety monitoring.

Watchdog timeouts.
Faults identified by monitors.
Periodic built in test suites.
Software error assertions.

For larger and complex systems, safety executive provides a centralized point for safety processing.
Makes it simpler to verify and validate safety measures.